by Kyle Callahan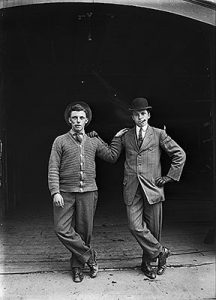 Six days ago, Governor Scott lifted Vermont's mask mandate and social-distancing requirement for fully-vaccinated individuals. This marks the first time in fourteen months that neighbors and friends on the streets of Poultney have been able to see each other's full faces, shake hands, and hug.
Even though we have plenty of science to support removing masks and ending social distancing, it can still feel strange to be bare-faced when we're out and about. I went for a walk around the village's perimeter yesterday afternoon and found myself still giving plenty of space to those who were walking the other way, to the point where I sometimes walked in the street to provide the other pedestrians plenty of social distance on the sidewalk.
It seems ditching our COVID precautions might not be as easy as the governor just signing his name to an executive order.
When I first moved to Poultney from the northern suburbs of Boston in 2002, one of the first things that struck me about my adopted town was the way everyone said hello to each other street. I grew up in a town of almost 15,000 people, and though it was only three square miles, people still did not regularly greet strangers on the sidewalk. But here in Poultney, I found a village full of friendly individuals who always acknowledged my presence and who appreciated when I acknowledged theirs.
I fear the social distancing and masked faces that we've all had to get used to over the last fourteen months could strike a mortal blow to the social graces of our town, not because the people have changed, but because our habits have.
Today, when I went through our collection to find something interesting to share, I picked up a copy of this week's edition of The Poultney Journal from 1928, where I found this little nugget from its business manager, E.W. Colvin:
Social Life Of Poultney

It is astonishing how slow people are to get acquainted. Not merely do strangers find it hard to make friends, but old-time residents will not speak to each other. People may meet each other on the street for years and never give any sign of recognition. They know each other perfectly, and would like to get acquainted, but they have not been introduced.

These unbending people may be charming in their own circles and full of kind thoughts toward others. Their attitude does not necessarily mean they are proud. It frequently comes from the exaggerated feeling of propriety or bashfulness, an idea that they will be considered forthputting if they disregard strict etiquette.

A town where this spirit exists has a cold pall of distance stifling its people. They cannot form friendships they need for their own welfare and the development of the community. People get false ideas of each other and look on each other as haughty. They draw back in their own little shells, and no neighborly spirit is developed.

It is a good rule here in Poultney when two men or two women have met each other enough so that they know each other by sight to get acquainted. As isolated strangers they are an obstacle to the unity of the city. When they get to know each other, and discuss their common interests, they become good neighbors and a force for community progress.

– E.W. Colvin, The Poultney Journal, Friday, May 18, 1928
Mr. Colvin's advice might help us through these next awkward weeks as we rekindle the social life of our town. As you remove your mask and return to the sidewalks with your whole smile and your confident handshake, remember to say hello no only to your friends and neighbors but to the strangers who you may know by sight.
Let your kind thoughts and your charm become a force, once again, for community progress.