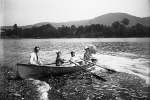 A newly discovered collection in Poultney of over 880 glass plate negatives yields photographs that are strikingly varied and compelling.
The exhibit is a window in time, from about 1890 to 1910, when dry glass plate photography was at its peak. This new and convenient process allowed both amateur and professional photographers to leave the studio to shoot pictures in the field and store them for long periods of time.
For the first time, photographers in rural towns and small villages like Poultney were able to capture images of all aspects of daily life, to go into people's homes and workplaces, to their farmlands and lakes, showing them at work and at play.
To see more of the collection of Glass Plate Negatives, click here.