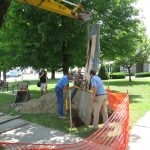 Poultney has completed a project that recognizes the importance of Vermont slate to the generations of families who have been connected to it. An 8-foot tall stone in unfading green was installed on Town Hall green on July 28th, 2016.
On the same day, a second purple slate stone with a poetic inscription was installed across the intersection on the property of St Raphael's Catholic Church. The stone was carved on site during the summer of 2016 by Poultney sculptor Kerry O. Furlani.
This tribute to the historic importance of slate in the region and state is known as the Silent Friend Slate Project. It is a collaboration between Furlani and the Poultney Historical Society with funding from the Vermont Arts Council.
Many others from the Town government, the community, the church, and the slate industry have helped this project materialize. The Poultney Historical Society is deeply grateful to all those who made it possible to bring this concept from the drawing board to reality.