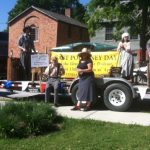 The Poultney Historical Society float departed from East Poultney on July 4th with a farmer sweating over work on a shaving horse and a young woman taking on the arduous tasks of housework and laundry. It was a hit!
The theme of the parade was Making a Difference. Our float, depicting the drastic change in the daily lives of Vermonters after rural electrification reached the state, won the award for "Best Depicts Theme."
Two "picketers" walked alongside the float in 1917 garb, urging the United States to give women the right to vote, and a guitar fella played his heart out for hard-working people to unionize.
So as you drive by the Poultney Historical Society in East Poultney, be sure to see the sign on our float (which now sits on the front lawn). It'll remind you to come to East Poultney Day on Saturday, August 13th from 9am – 4pm.
To see more pictures of the July 4th float, click the pictures below.