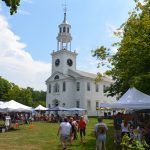 We were very lucky to celebrate this year's East Poultney Day on August 13th with the theme Democracy in Poultney despite the gloomy forecast of torrential rain and heavy flooding! Pastor Todd helped save the day by opening up the United Baptist Church on the Green for all East Poultney Day goers and vendors in case of bad weather.
Writer Susan Clark, co-author of the book Slow Democracy, was the keynote speaker of the event. She highlighted the power of small community based democracy and explored different aspects of democratic systems as well as the ways people share and contemplate perspectives that differ from their own.
Many of the activities that day explored the theme: including a vote for or against a 1916 prohibition initiative in Poultney using the town's 1791 ballot box (Results: Prohibition did NOT pass) and the Greatest American Ice Cream Vote (Results: 35 for chocolate, 25 for vanilla). Plus, there was a live demonstration of horse shoeing, wagon hayrides around the Green, a tiny house display, the loading and firing of a civil war era historic musket, and three different musical performances!
The Melodeon Factory, the Union Academy, and the East Poultney Schoolhouse were all open to the public and included both new and old exhibits.
East Poultney Day gives the Poultney Historical Society an opportunity to vitalize the history of our town and to show our gratitude to the citizens of Poultney for their support. We are so glad to see many Poultney residents making their way to East Poultney Day this year with no fear of the rain!
We invite you to join or renew your annual membership, which will help us to continue to fulfill our mission to preserve and share the history of Poultney.