There is still time to become an East Poultney Day Vendor! Submit an online vendor form or contact East Poultney Day Coordinator Jamison Lerner by phone at 585.991.8660 or by email at [email protected]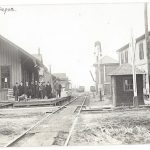 East Poultney Day will be held on August 11, 2018  from 9 AM to 3 PM on the East Poultney Green.
The theme of the event this year is Poultney on the Move: Getting from Here to There over Two and a Half Centuries and revolves around the history of transportation in Poultney and in the State of Vermont.
The day will feature Vermont Humanities Council sponsored lecturer Deborah Lee Luskin as East Poultney Day's 2018 keynote speaker! Luskin's presentation Getting from Here to There: A History of Roads and Settlement in Vermont will take place at 11am the day of the event! Learn more.
As always, the Melodeon Factory (1854), the Union Academy (1791), and the East Poultney Schoolhouse (1896) will all be open to the public and will include both new and familiar exhibits.
The East Poultney Schoolhouse will feature a new Poultney Model Train Exhibit, donated to the Historical Society by the family of (Oscar) Milt McWhithey who created the model train set of Poultney and the surrounding area.
The Melodeon Factory will have a photo exhibit on display and will host Dr. William Tortolano, Professor Emeritus at Saint Michael's College and East Poultney Day's 2017 keynote speaker. Dr. Tortolano will sing songs and play one of the Poultney's very own melodeons.
Throughout the day, over 40 vendors sell crafts and folk arts, antiques and collectibles, maple syrup, jams, herbal soaps, vintage linen, handmade pottery and jewelry. Food is available all day long, provided by the Poultney Snowmobile Club and the East Poultney Store.
Visitors can also help support the work of the Poultney Historical Society by becoming members and purchasing raffle tickets for the chance to win all sorts of prizes, including $100!
For more information contact 802-287-5252 or inquire at [email protected].