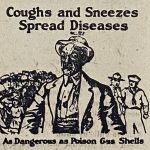 As Vermont continues to grapple with the effects of COVID-19, it is perhaps worth remembering the last time such an immense challenge presented itself to the residents of Poultney.
A little over 100 years ago, the Spanish Flu began to spread across the world in February 1918 and continued well on into the summer of 1919. The pandemic had a profound and widespread impact, sickening millions and, in Vermont, resulted in many businesses, churches, schools, and other community gathering places to temporarily shut down.
The Poultney Historical Society's collection of the local newspaper, The Poultney Journal, helps to shed light on some of the parallels of Poultney in 1918 and Poultney today.
Click the images below to view The Poultney Journal articles from October – November 1918:
October 18 1918 – Uncle Sam's Advice on Flu