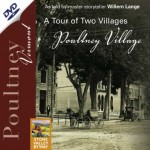 The new DVD "A Tour of Two Villages: Poultney Village" is now available for purchase! You can order through The Store on this website, at the Original Vermont Store on Main St., Poultney and at the East Poultney General Store, on the East Poultney green.
Narrated by Willem Lange, Vermont Public Radio's famous storyteller, this popular video includes hundreds of historic photographs culled from the Poultney Historical Society's collection. It tells the story of how Poultney Village grew from a small Vermont milling hamlet to a thriving industrial and commercial town. The story of this development is told through the unique buildings that make up today's downtown, with architectural and historic details explained.
The video also incorporates the recorded stories of several of the town's well-known citizens, like Ed Lewis, Doc Williams, and the late Sylvia Williams, as well as Alan Nyiri's beautiful photographs of current-day Poultney.
The cost is $20 and all proceeds benefit the Poultney Historical Society, located in the three historic buildings on the East Poultney Green.