The late Milt McWithey, a Poultney native and model train enthusiast, built a model of the D&H Bridge line covering Castleton and Poultney VT to Comstock NY. His wife, artist June (Ray), painted the various scenery and buildings with help from several local family members.
This incredibly detailed model train was donated by Milt's family to the Poultney Historical Society this month. Milt had moved to Flintville, Tennessee to be closer to his family and passed last year. His family felt Milt would have wanted the train to come back home to Poultney. The Society is grateful for the family's thoughtfulness and for this unique gift!
We thank Andrea Mott, PHS Board member and Clerk, for her perseverance in making sure the train had a good home at the Poultney Historical Society and for organizing the funding and delivery of the set.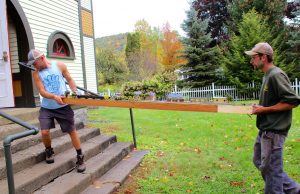 Taylor Porrier and Gary Carignan, both born and raised in Poultney, and PHS Board member Janet Greenwood's son Adam, helped the delicate move into the East Poultney Schoolhouse. Thank you!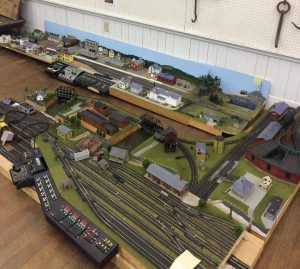 The train will be a major exhibit at the East Poultney Schoolhouse this coming summer 2018!