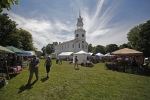 East Poultney Day, a celebration of Poultney's rich history, is the premier event of the Poultney Historical Society. Always held on the second Saturday in August, this year's fair will be on August 12, 2017 from 9 AM to 4 PM on the East Poultney Green.
The event is a full day of activities, games, food, movies, and music for the entire family to enjoy. More than 40 vendors sell crafts and folk arts, antiques and collectibles, maple syrup, jams, herbal soaps, vintage linen, handmade pottery and jewelry. Any vendor or demonstrator of traditional crafts and foods may apply for a space by contacting the Poultney Historical Society at 802-287-5252 or at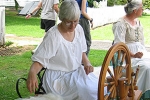 [email protected]
The original event in 1935 was a commemoration of the role of Poultney citizens in the Battle of Bennington and the extraordinary bravery of the "Valiant Thirteen", Poultney women who, during the Revolutionary War, fled their homes in Poultney before Burgoyne's advance after the Battle of Hubbardton to seek the relative safety of the Bennington area.

The East Poultney Green is one of Vermont's real treasures. It has a rich collection of historic homes and buildings clustered around its striking Federalist-style 1805 Baptist Church. Due to the efforts of the Historical Society, several of the buildings have been saved and restored and are now museums. As a focus of East Poultney Day, the Historical Society offers an open house in each of these three unique museums:
The 1791 restored Union Academy schoolhouse, the second oldest in Vermont, looks just as it looked 150 years ago. Kids are invited to try their hand with quill pens and slate boards, sitting at replicas of antique desks.
The 19th century Melodeon Factory (which made small reed organs) houses much of the Society's collection of large objects, antique wagons, household utensils, and of course melodeons.
The 1896 East Poultney Schoolhouse has seen a restoration to its stunning original color scheme and is proud to display the work of Poultney Elementary's 2013 fourth grade class. The students completed their research into the historic agricultural tools at the museum and have created new signage for "Poultney At Work: On the Land," an exhibit featuring many of these antique tools.
No celebration is complete without music and dance. Throughout the day, performances by local musicians will include American folk tunes.
Food is available all day, supplied by t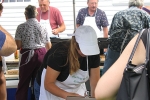 he Poultney Snowmobile Club and the East Poultney General Store. Visitors can help support the work of the Historical Society by becoming members and buying raffle tickets. At 3:00 PM, the annual raffle will award the dozens of items donated by local businesses and artists, and will feature two grand prizes and a cash prize.
A traditional Vermont church supper will follow at 5 p.m. in the basement of the United Baptist Church on the green. Stay tuned for details.